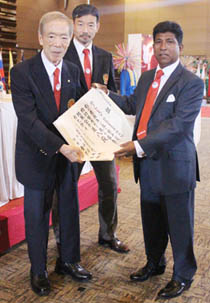 SA Legend honoured with 8th Dan promotion by World GM
read more ...
INDIA HONOURS SOUTH AFRICAN KARATE LEGEND HANSHI SONNY PILLAY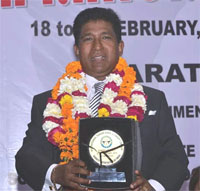 President of Karate South Africa (KSA) Hanshi Sonny Pillay was recently honoured by the Karate Association of India (KAI) the national federation for his outstanding contribution to karate around the globe... Read more
WORLD KARATE FED (WKF) HONOURS FOUNDER OF SKISA KYOSHI PILLAY WHO ALSO CURRENTLY SERVES AS THE PRESIDENT OF KARATE SOUTH AFRICA (KSA)

"I consider this rare accolade the highlight of my 47year karate journey through trials and tribulations given that it all began for me in 1968 during the height of the apartheid era" said the SA karate legend. Read more
SKISA expresses its sincere condolences to the Madiba family on the passing away of perhaps the greatest political icon of this modern era.
read more
SKISA EXPRESSES ITS DEEPEST SYMPATHIES TO THE FAMILY OF THE LATE BOXING LEGEND "BABY JAKE"
Read more
SA KARATE LEGEND SONNY PILLAY APPOINTED VICE PRESIDENT OF COMMONWEALTH KARATE NATIONS...read more