SKISA SUPERSTARS ON THE ROAD TO WORLD STUDENT GAMES - 2016 PORTUGAL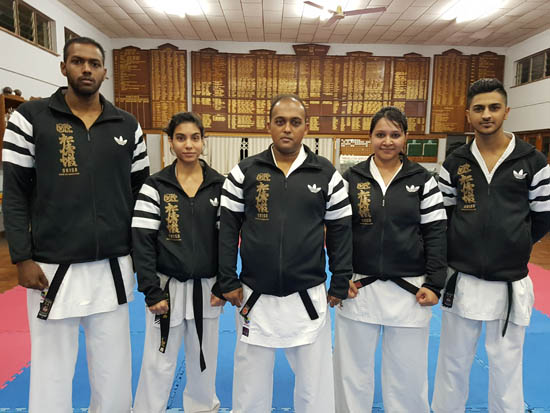 Tongaat's "SKISA" karate superstars Theo Pillay, Yash Jugoo, Shreya Misra, Riasha Singh jetted off to Portugal to do battle at the World student games
The prestigious biannual student games that encompasses ALL the universities worldwide is being hosted in PORTUGAL under the auspices of the World karate federation (WKF)
All four KSA national champions who are currently the SA Universities all styles champions of 2016 is firmly focussed on winning the world champion title "We are going for gold in Portugal "said the very excited Theo Pillay senior member of the team.
"Moreover I want to make SKISA my personal organisation, USSA my universities org, and the KSA fed very proud indeed by being crowned world universities champion "added the town planner graduate of DUT Theo Pillay
President of KSA the national fed. for karate in South Africa expressed his optimism of the USSA team selected to participate in the WORLD UNIVERSITIES GAMES "I am confident that Theo and the other members of the team will bring glory back to our Rainbow nation with extraordinary performances in Portugal "said the karate legend of South Africa Hanshi Pillay.
The three day event takes place from this Friday to Sunday and is expected to attract over 1000 university students from around the globe.
Protea head coach Brando Pillay who put the SKISA Superstars university team through some rigorous coaching clinics before their departure on Sunday said that Yashveer the rest of the team were fighting fit and in peak form "I expect our USSA team to bring back gold medals with world student titles " concluded the head Protea coach Brando Pillay.
INDIA HONOURS SOUTH AFRICAN
KARATE LEGEND HANSHI SONNY PILLAY
President of Karate South Africa (KSA) Hanshi Sonny Pillay was recently honoured by the Karate Association of India (KAI) the national federation for his outstanding contribution to karate around the globe
The South African legend of the sport was bestowed a Commendation Award for being the first Karate master of Indian origin and the only South African to be awarded the prestigious 8th Degree black belt rank from the World karate federation (WKF)
President of the Karate Association of India (KAI) Ragupathy Thiagarajan paid glowing tribute to Hanshi Pillay at the Awards ceremony attended by thirty two states (provinces) held during the recent Senior National championships in New Delhi
India is proud of its son Hanshi Pillay for his phenomenal rise in the karate field especially given that he was democratically elected the President of Karate South Africa furthermore we the custodians of Indian karate (KAI) salute Hanshi Sonny Pillay on being the first amongst us to receive the 8th degree black belt rank from the World Karate Federation (WKF) the highest authority of karate in the world today
The 64year old karate maestro whose grandparents migrated to South Africa as "Slaves" by to work in the sugar cane plantations said he was overwhelmed by the warm hospitality and honour that was afforded to him in his Motherland India it is certainly gratifying to know my achievements are globally recognised said Hanshi Pillay
"This rare accolade bestowed on me by the Indian karate hierarchy led by Messrs Thiagarajan and secretary general Bharat Sharma must certainly be one of the highlights of my 47 year karate journey " concluded the world renowned karate ambassador Hanshi Pillay who resides in KZN
RIASHA SINGH RECEIVES " SUPERSTAR" OF THE YEAR 2014

Pic L-R Founder of SKISA Sonny Pillay ,Superstar Riasha Singh, CEO of KSA Carlos Vilela and Protea coach Brando Pillay
Riasha Singh who last week end was crowned "All styles "champion of the National universities Championships hosted in Port Elizabeth received the SKISA SUPERSTAR of the year Award
The prestigious accolade was bestowed on Riasha a UKZN 2nd year engineering student at a Gala dinner banquet hosted by the SKISA Trust in Durban
Riasha a triple Africa (ZONE 6) champion has won every tournament she entered during the current year 2014
Protea coach Brando Pillay said that" Riasha who is oozing with talent is a potential future world champion "I have no doubt that Riasha will climb the WKF podium sooner than later " added Brando Pillay
The Reservoir hills resident Riasha expressed her delight upon being awarded the "Superstar of the year" title and said she was greatly indebted to her organisation SKISA and her mentor the Protea Coach Sensei Brando for his guidance
"Sensei Brando is an outstanding coach who has worked wonders for me" in addition " I owe everything I achieved in karate to him and I believe I can win the world title with his guidance" concluded the pint size dynamite Riasha
As a matter of interest Riasha regularly teaches classes in the evenings throughout Durban and its suburbs (call her for further details on 0718980068 or email riasha.singh@yahoo.com)
COMMUNITY LEADER HONOURED
RICHARD NAIDOO RECEIVES THE SKISA TRUST LIFETIME ACHIEVEMENT AWARD FROM FOUNDER KYOSHI SONNY PILLAY AND AV MOHAMED CHAIRMAN OF THE SKISA TRUST
Local KZN community leader and "Paul Harris" awardee Richard Naidoo received a Lifetime Achievement Award from the SKISA Trust
The prestigious accolade was bestowed on Richard who serves on the board of over twenty organisations in KZN at a gala dinner banquet held last week end in Durban
Kyoshi Sonny Pillay Founder of the SKISA trust paid glowing tribute to Richard for his service to humanity "Richard has always addressed the imbalances of the past with his support of social outreach projects" said Kyoshi Pillay
Richard who serves as the treasurer of the SKISA trust and GOPIO expressed his delight upon receiving the said Award "I feel overwhelmed with this rare honour and am very gratified that my small contribution to society hasn't gone unnoticed
moreover I promise to continue my work in the field in endeavouring to alleviate poverty amongst the previously disadvantaged and underprivileged communities" concluded the lifetime achievement awardee Richard Naidoo.
Education Visionary Commended
L-R Kyoshi Sonny Pillay (President of KSA) Anita Pillay (first lady of SKISA ) Daya Naidoo (Director of Daylee Independent sch) Protea coach Brando Pillay
The Daylee Independent school Director Daya Naidoo was recently honoured for her outstanding contribution made in the field of education
The Verulam based education Visionary who embarked on an Independent education institution more than 10 years ago was bestowed a Commendation Award jointly by SKISA and the SKIFA world karate organisation
The prestigious accolade presented by the first lady of SKISA Anita Pillay was made at a gala dinner banquet held in Durban
Founder of SKISA and president of Karate South Africa Kyoshi Sonny Pillay paid glowing tribute to Daya for her tireless promotion of education for the youth of today
"Daya is most deserving of this Commendation Award as she is in our view an ambassador for education in general and SKISA has ensured by virtue of this presentation of the said award her contribution doesn't go un noticed " said Kyoshi Pillay
"I am very grateful to Kyoshi Sonny Pillay and the SKISA organisation for honouring me as this award is indicative of the progress of the Daylee Independent school over the years it has been in existence " said the very modest awardee Daya Naidoo.
3rd December 2014.
Dear Kyoshi,
On behalf of WSKF South Africa we would like to congratulate you on your 8th Dan recently awarded by WKF.
Your effort in trying to unite karate South Africa obviously has not gone unnoticed.
I am sure that all members of SKIF South Africa and members of other karate organisations are proud of you.
We wish you every success for the future.
Kind Regards,
Michael Dukas
___________________________________________
Kyoshi Sonny Pillay recieves WKF 8th Dan