Reddy's "eveready" to win medals at Kanazawa Cup 2014

Twins Kiara and Tahira with younger brother Atesh all winners at Kanazawa cup 2014

MORNINGSIDE KARATE CHAMPS

L-R top: Bianca Soni, Ricardo de Castro and Katelyn Dalhuisen
seated below: Daniel Butler, Owen Chetty and Samantha Soni

MORNINGSIDE PRIMARY SCHOOL KARATE CLUB STUDENTS FOUGHT LIKE CHAMPIONS AT THE RECENT SKISA DEVLOPMENT TOURNAMENT HELD AT THE TONGAAT INDOOR SPORTS CENTRE

EMBURY COLLEGE STUDENTS BIANCA SONI AND RICARDO DE CASTRO WERE CROWNED CHAMPIONS HAVING WON GOLD MEDALS IN THEIR RESPECTIVE DIVISIONS

SAMANTHA SONI (MORNINGSIDE PRIMARY PUPIL), KATELYN DALHUISEN, OWEN CHETTY (GLENWOOD JNR) AND DANIEL BUTLER (TREE TOPS ) WHO PRACTICE THEIR KARATE UNDER THE WATCHFUL EYE OF SA KARATE LEGEND KYOSHI SONNY PILLAY ALL ACHIEVED A PODIUM FINISH (SILVER/BRONZE MEDALS)

"I AM PROUD OF OUR MORNINGSIDE PRIMARY SCHOOL CLUB CHAMPIONS" SAID KYOSHI PILLAY WHO IS REGULARLY ASSISTED BY SKISA SNR INSTRUCTOR JABULO KHUMALO (2003 WORLD CHAMP) AT THE CLASSES

"THEIR OUTSTANDING PERFORMANCE AUGURS WELL FOR THE FUTURE OF KARATE AT OUR CLUB IN MORNINGSIDE PRIMARY SCHOOL" ADDED KYOSHI PILLAY

ANYONE WHO WISHES TO JOIN THE KARATE CLUB AT MORNINGSIDE MAY CALL THE SKISA HQ 031-5641408

Durban Norths karate Grandchampions FLYING HIGH !!!!

Usman Ghoor and Daniel Levy with PROTEA COACH Sensei Brando

Durban Norths Karate superstars Usman Ghoor and Daniel Levy were declared GRANDCHAMPIONS after winning double gold medals at last weekends SKISA development championships.

more than 200 children from thro out the KZN province fought for the 4 medals (gold /silver and 2 bronze) on offer in all the categories thro' out the days annual SKISA event hosted at the Tongaat Sports Centre

Protea coach Sensei Brando Pillay said "judging by this outstanding both Daniel and Usman are potential future "Protea" candidates " i am very pleased for both Daniel and Usman because they are dedicated and disciplined towards their karate practice

"moreover they never miss a coaching seminar and more importantly enjoy the full support of their karate loving parents" concluded the Protea coach Sensei Brando

Kyoshi Sonny Pillay headmaster of SKISA said he was proud of the Future champs academy based at the Northlands girls high school run by sensei Brando Pillay as some of the top KZN tournament fighters emerge from the said academy

Skisa looks forward to the Future Champs Academy's continuation of the good work in producing KZN caps and Proteas going forward

_____________________________________________________

DURBAN'S (EMBURY COLLEGE) RICARDO DE CASTRO
"A CHAMPION IN THE MAKING "

"A well disciplined boy " said SKIF chief instructor Kyoshi Sonny Pillay

_____________________________________________________

Musgrave "Tree Tops Karate Star"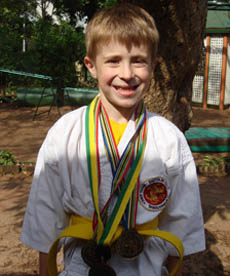 Craig Swanapoel emerged victorius at the recent SKISA team challenge held at the DUT the Tree Tops pre primary school pupil has shown great potential to gain a podium finish at the said event attended by 300 children from clifton boys,eden college morningside primary and glenwood jnr schools

"Craig who is hugely talented is destined to win a national title in the future" said his SA karate legend kyoshi Sonny Pillay for karate classes in the berea/ morningside /musgrave areas call the SKISA hq 031-5641408.

_____________________________________________________

Tahira Reddy

Kzn's Tahira Reddy "A champion in the making" is how Potea coach Sensei Brando Pillay described her as she achieved a podium finish(Silver medal) at the KSA childrens Nationals 2011 in Cape Town

_____________________________________________________

Ayush Bunsee

Budding young karateka who trains at the UMHLANGA branch of SKISA recently achieved his yellow belt "is a future champ in the making " said Kyoshi Pillay who teaches karate at the Umhlanga Hindu society SKISA club on Saturday mornings

_____________________________________________________

Morningside Primary "Karate Star"

Karate superstar Samantha Soni proudly shows off all medals and trophy won in recent tournaments

Morning Side Primary school pupil and KZN CAP Samantha Soni is emerging as a karate superstar in SOUTH AFRICA

She won silver medal at the recent GIFT OF THE GIVERS INTERNATIONAL KANAZAWA CUP (South Africa's premier karate event)

"Samantha is destined to be a world champ sooner or later "said Kyoshi Sonny Pillay chief instructor of the Shotokan karate -do International South Africa Organisation

"SHE IS OOZING WITH TALENT" added the karate maestro Kyoshi Pillay and we're confident she will son gain her Protea colours in the junior division.

SAMANTHA PRACTICES HER KARATE AT THE MORNINGSIDE PRIMARY SCHOOL KARATE CLUB ON MONDAYS AND FRIDAYS

For any re karate classes at Morningside Primary please call the SKISA hq 031-5641408 or email sonny@saol.com

_____________________________________________________

Siashen is the "Gift Of The Givers" Karate Champ

Siashen Glenwoods "Gift of the Givers" champ 2011

Marist Bros school pupil and Glenwod resident Siashen Bhagwandin won the "GIFT OF THE GIVERS" KANAZAWA CUP 2011 TITLE in the childrens division

The little karate tiger swept past all opposition from thro out the republic and abroad (Mozambique, Botswana, Bangladesh and DRC Congo ) to win the International title at the recent karate tournament held at the DUT campus

Kyoshi Sonny Pillay SKISA (hosts of the event ) said that "Siashen is very talented boy and this win places him in a good standing to achieve his KZN colours later this year "

Siashen trains regularly under PROTEA TEAM COACH sensei Brando Pillay at the FUTURE CHAMPS ACADEMY at the Wesville Civic Centre.

_____________________________________________________

Jared is Aiming High

SKISA "FUTURE CHAMP " Jared Atkinson, 5yrs old, Sunningdale Pre-Primary pupil. He is a student of SKISA, Somerset Park .

He won a silver medal (in kumite) at the Gift of the Givers International Kanazawa Cup held recently at Durban University of Technology

"JARED IS PART OF OUR FUTURE CHAMPS ACADEMY AND IS AIMING HIGH ON THE KARATE WAY FOWARD " said Kyoshi Sonny Pillay Headmaster of SKISA