SKISA EXPRESSES ITS DEEPEST SYMPATHIES TO THE FAMILY OF THE LATE BOXING LEGEND "BABY JAKE"

SKISA expresses its deepest sympathies to the family of the late boxing legend "Baby Jake", holder of 4 World titles and a SKISA Commendation awardee 2005. I remember vividly meeting this boxing giant full of humility, greeting me with a very pleasant smile and welcome at the Holiday Inn Garden Court on Durban's beach front. Certainly a memorable occasion for me and SKISA.

Rest in peace my dear sports brother Baby Jake.
SA KARATE LEGEND SONNY PILLAY APPOINTED VICE PRESIDENT OF COMMONWEALTH KARATE NATIONS
L-R Sonny Pillay (South Africa) Michael Kassis (President –Australia) Rebecca Khoury (Canada) Gift Nkwe (Botswana) R. Thiagarajan (India) Leo Donnely (New Zealand)
South Africa's karate legend Kyoshi Sonny Pillay was recently appointed Vice President of the Commonwealth Karate nations of the world
The 63year old karate maestro, current President of the national federation KSA (Karate South Africa) was appointed by the new executive council of the CKF (Commonwealth karate federation)at the Congress of the Commonwealth championships held in Montreal (Canada)
L-R Kyoshi Sonny Pillay (South Africa) with World President (WKF) Antonio Espinos (Spain) at the recent Commonwealth championships in Montreal Canada
"It was a double celebration for KSA and myself coz firstly the Team KSA our national team won record 52 medals (12 gold incl) and secondly I was appointed to the very important position of Vice President of the Commonwealth karate nations" said a very delighted Kyoshi Pillay
Given that the current KSA executive were elected after a very turbulent period in the history of our sport as President of KSA I would like to believe that we're emerging once again as a major force both administratively and technically in the Global affairs of karate
It must also be noted that our current KSA CEO Carlos Vilela has been recently appointed the treasurer of Africa Zone 6 karate federation
"Moreover huge credit in this regard is due to the guidance and support we have received from SASCOC our governing body for sport in the country, particular mention must be made of SACOC board member Mubarak Mohamed ,who was largely responsible for setting KSA back on track after it had lost total direction under the previous NEC " added the newly appointed VP of the Commonwealth Karate Federation Kyoshi Sonny Pillay
Kyoshi Pillay celebrating his appointment with TEAM KSA MANAGEMENT
at the Commonwealth champs 2013 MONTREAL
Kyoshi Sonny Pillay currently prepares to lead the KSA TEAM SOUTH AFRICA (national team of cadets juniors and the under 21) to Madrid ( Spain) for the world cup 2013 that is expected to attract 100 countries from around the globe
"I remain optimistic given that 2013 has been a record year in the history of KSA (in terms of our medals won at all international events attended by our athletes) that KSA TEAM SA will make the Rainbow nation proud at the ultimate in karate tournaments the 2014 World cup in Spain " concluded the KZN based leader of karate in South Africa
LIFETIME ACHIEVEMENT AWARD CONFERRED ON PROF AHMED BAWA VC OF DURBAN UNIVERSITY OF TECHNOLOGY
(left to right in pic: Kyoshi Sonny Pillay, President, Karate South Africa; Cllr Logie Naidoo, Speaker, Ethekwini Municipality; Prof Ahmed Bawa, Vice-Chancellor and Principal, Durban University of Technology; Tubby Reddy, CEO, SASCOC)
The World Karate Federation SKIF, with its South African branch SKISA, recently conferred a Lifetime Achievement Award on academic luminary Professor Ahmed Bawa, the Vice-Chancellor and Principal of the Durban University of Technology. The prestigious accolade was bestowed on Prof Bawa for excellence in the field of higher education, astrophysics and science, by Tubby Reddy, the CEO of SASCOC, at a gala dinner banquet hosted at the Sibaya Casino just north of Umhlanga in Durban.
During his acceptance speech, Prof Bawa expressed his gratitude to the World Federation SKIF, led by the renowned karate legend Grandmaster Kanazawa and Kyoshi Sonny Pillay, President of Karate South Africa, for the recognition afforded to him.
PRESIDENT OF KARATE SOUTH AFRICA (KSA) KYOSHI SONNY PILLAY DURING HIS OFFICIAL SPEECH PAID GLOWING TRIBUTE TO PROF BAWA FOR HIS OUTSTANDING CONTRIBUTION MADE SINCE HIS APPOINTMENT AS VC AND PRINCIPAL OF DUT IN ADDRESSING THE INJUSTICES OF THE PAST THROUGH THE MEDIUM OF HIGHER EDUCATION AMONGST THE PREVIOUSLY DISADVANTAGED UNDERPRIVLEDGED COMMUNITIES
The Vice-Chancellor also pledged his support in promoting the partnership that exists for the past decade between Dut and SKISA in major social outreach projects on the way forward. Prof Bawa also congratulated Karate South Africa on winning the bid to host the Karate World Cup K1 league in February next 2014. Durban will be the host city for the event and DUT, together with the ICC Durban, will be the venues for the World Cup.
Previously, other leading personalities who received the prestigious Lifetime Achievement Award are Dr Imitiaz Sooliman, Founder of Gift of the Givers, Ela Gandhi, community activist and former Chancellor of DUT, leading academic Dr Jairam Reddy, Jazz legend Sonny Pillay, Baby Jake Matlala, South Africa's boxing great, Liberation struggle hero Sonny Singh, Dr Sam Ramsamy, sports administrator, IOC member and activist; and our former President, the father of the Nation, Tata Nelson Mandela.

LANDSLIDE VICTORY FOR SA KARATE LEGEND KYOSHI SONNY PILLAY AS HE IS ELECTED PRESIDENT OF KSA 2013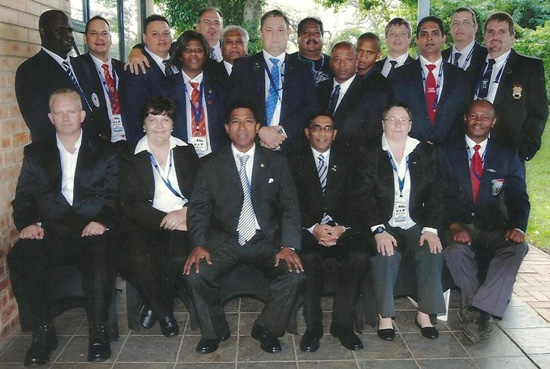 South Africa's Karate legend, Kyoshi Sonny Pillay was elected as the new President of KSA (The National Karate Federation) with a landslide victory.

The 62 year old Karate Maestro from Durban North received the majority vote from 7 out of the 8 provinces who participated in the national elections during May 2013.

Having started Karate in 1968, Kyoshi Pillay said "It has been a long journey of literally blood, sweat and tears."

"My victory at the election proves there is "light at the end of the tunnel" however I have to say that without my family's support none of it would have been possible " added the karate globetrotter who regularly conducts international technical workshops in other parts of the globe

He expressed his unreserved gratitude and praise for his better half Anita and his 4 children who he says have been pillars of strength for him , particularly during the dark days of apartheid. He also paid tribute to his son saying that one of the highlights of his karate career was when his eldest son Sensei Brando was appointed a Protea coach in 2010 by KSA

"I accepted the position of President of KSA in memory of all the unsung sports heroes of the Rainbow nation who were victims of apartheid viz, golfing genius - Papwa Sewgolum, Martial Arts pioneer - Raku Soobiah Naidoo, Soccer Legend Dharum Mohun, Kzn's Precious Mckenzie who excelled in the sixtees at the Commonwealth games in the sport of weightlifting and one of Karate's greatest - Glen Popham a coloured gentleman from Johannesburg" said the President

"Sadly, none of them are here today to see me climb the podium from a white belt in 1968 to 1st place (president) amongst the Karate fraternity of South Africa" said Kyoshi Pillay .

During a recent press interview the newly elected karate leader said "never in my wildest dreams did I envisage whilst commencing karate training in in the sixties in the most sub standard facilitated dojos(clubs)in the poverty stricken suburbs of Durban that I will one day be crowned PRESIDENT OF THE NATIONAL FEDERATION moreover I always "aimed high" and served in various positions in the provincial and national structures during my karate practice but becoming President is the ultimate reward I sincerely believe for my hard work and persistency in the sport " said Kyoshi Pillay

"My priority moving forward as the new leader of KSA will be to focus on development and unity that in my view, is something that has been lacking with very little done in this regard by the previous NEC of KSA" added the national president who expressed his optimism with regards to the future of the sport "the future is bright and promising" added the president

Carlos Vilela the recently appointed CEO of KSA said that Kyoshi Pillay will undertake is a road show to promote Karate and create awareness of it throughout the Republic by visiting and engaging with officials from all 9 karate provinces particularly with regards to development of the sport in the rural areas

"My heart and telephone are open to anyone who holds interest in partnering is in this exciting very challenging karate journey said world renowned karate maestro who successfully hosted the 2003 Shotokan World Cup with 52 countries in attendance at Durban's ICC concluded Kyoshi Pillay

For more information regards to , please contact Kyoshi Sonny Pillay on 082 557 7784 or email president@karate-sa.org

SKISA KZN caps shine at KSA Nationals 2012

SKISA KZN CAPS WHO DID BATTLE IN THE KSA NATIONALS RECENTY HELD IN AT THE UKZN
(WESTVILLE CAMPUS) DURBAN

SKISA KZN caps who all represented the province at the recent KSA nationals in Durban excelled in their performances that contributed largely to the province making a podium "top four " finish

KZN province finished in the top 4 behind the winners Gauteng and runners up Western Cape in the overall medal count at the conclusion of the biggest karate event for 2012

Skisa produced several silver and bronze medalists with SKISA Durban North instructor Gold medalist Theo Pillay being crowned SA all styles champion in the under 21yr heavyweight division.

"SKISA is a major player in KZN tournament karate and continues to produce champions since the early 90's when its first National champion Geo Govender won gold in Bloemfontein" said Head coach KZN karate Sensei Brando Pillay

Karate Maestro Kyoshi Sonny Pillay meets
OLYMPIC swimming great CHAD

Vice President of National Karate Fed (KSA) Kyoshi Sony Pillay who participated in the Sete exhibition to promote travel and tourism through international sporting events in South Africa met with Olympic great Chad le Clois last night at the ICC

Sascoc hosted an awards gala dinner banquet during which our 2012 Olympic heroes were honoured

The karate legend Kyoshi Pillay was overly impressed with the swimming superstar Chad with rgds to his humility on display throughout the night 's function

My first and lasting impression of Chad is that he has his feet firmly on the ground despite his incredible performance at the London Olympics

"I believe from my tournament experience on the world stage that Chad will reach much greater heights as he goes forward with his swimming career "said the karate maestro Sonny Pillay

"perhaps it's fair to say he only just begun his journey into sporting history and superstardom " added the SKISA president Kyoshi Pillay

SKISA pro Sharan Haricharan who was also at the banquet invited the swimming sensation to join hands with SKISA in future jv social responsibility projects

SKISA is currently planning its 2013 global youth focus program with various sporting legends from all the different sporting codes and the number one guest will be KZN's world beater Chad le Clois.

SKISA KZN CAPS 2012


SASCOC recently Honored SA karate legend Kyoshi Sonny Pillay with A Commendation Award for Excellence and Meritorious service to the sport of Karate for the past four and a half decades.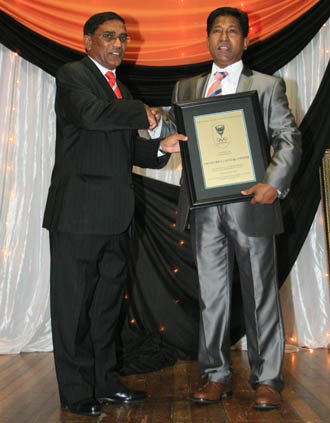 Chairman of the SASCOC Ethics Resolution and Dispute Committee Mubarak Mohamed paid glowing tribute to the newly elected Vice President of Karate South Africa Kyoshi Pillay for his outstanding contribution particularly for his free development karate workshops amongst township children

The 61yr old karate maestro expressed absolute delight upon receiving the SASCOC Commendation award at a Gala dinner banquet at Durbans Elangeni htl

" This is my 45yr in the sport of karate and SASCOC has made this journey of trials and tribulations PARTICULARLY MY HAVING EMERGED FROM THE APARTHEID ERA very meaningful with this Commendation Award" said a very excited Kyoshi Pillay

"Ive been honored thro'out the world in every continent but no award is more meaningful and valuable than being honored in your own country by your Government Structure such as SASCOC whom I have the utmost respect for " added the Karate maestro

"This prestigious accolade is very reassuring in that my untiring efforts in the karate field especially with regards to free development workshops amongst the township children has been recognised by the SA govt (thro SASCOC) concluded Kyoshi Pillay

Kyoshi Pillay currently thro his organisation SKISA has embarked on a development project "TAKING KARATE TO THE KZN TOWNSHIP CHILDREN" with partners Dr Imitiaz Sooliman and Gift OF THE GIVERS

" Karate must reach the rural areas coz it's a magnificent vehicle to constructively develop the youth of our Rainbow nation moreover youth development in our country is of vital importance " said the 61yar old SA karate legend Kyoshi Pillay

He is also currently apart from his vice president KSA duties preparing to lead the Team SKISA SA delegation (for a record 8 times since 1990) to the SKIF world cup karate 2012 (November) in Sydney (Australia)
Tributes:
SASCOC AWARD
Well done Kyoshi Sonny Pillay
Its what you do that counts. But what you say also has incredible value.
Keep the flag flying for all of us.
Best wishes
Thayalan Reddy and family

Congratulations on a magnificient accolade and much deserved.
Your unstinting and unselfish service to mankind and to the disadvantaged children in the townships bears testimony as I did accompany you when we visited the Bottle Brush Informal Settlement and conducted a free development workshop for the poverty stricken children . Well done Kyoshi for bringing a smile to the faces of those children who attended the said workshop Keep up your good work God will bless you
Vincent Pillay former PRO Footballer Verulam Suburbs

Dear Kyoshi
Congrats & well deserved!
It is indeed fulfilling to know that your efforts & great contribution to Karate & Sports is being recognised and honoured.
May God bless you with good health and the strength to take Karate & SKISA to greater heights.
Love & blessings
Latha Ramkisson

Fantastic well done Kyoshi, we are proud to know you and be part of SKISA.
The Van der Merwe family

Dear Kyoshi Sonny Pillay
Congratulations on receiving this well deserved commendation from SASCOC. We are fully aware of the significant contribution that you have made to date in the field of karate and beyond. SASCOC's acknowledgement most certainly is the cherry on the top of the many accolades you have been honoured with over the years. Your partnerships with other NGOs such as Gift of the Givers Foundation and international links augurs well for karate development in our country and in particular your outreach programme with our disadvantaged youth really needs to be applauded. We wish you every success with your delegation to Sydney for the SKIF world cup 2012 and all future initiatives.
May SKISA grow from strength to strength. May you be Blessed to continue with your outstanding work. Your family too needs to be commended for their support always. God Bless.
Kind regards
Dr Ansuyah Moodley
TEAM SKISA " FIGHTING FIT " FOR GIFT OF THE GIVERS KANAZAWA CUP 2012 TITLE
Protea coach Sensei Brando Pillay has been regularly conducting as from the beginning of 2012 special coaching workshops for SKISA TEAM SA at the new SKISA Headquarters based at the Physical Impact Gym at the Greyville Racecourse
The special coaching workshops are all geared towards the team capturing the GIFT OF THE GIVERS Kanazawa cup Team champions trophy for the 11th time in succession (SKISA team SA were crowned team champions for a record 10th time at last years event)
"The team is fighting fit" said the Protea Coach sensei Brando "however we are leaving "nothing to chance" in ensuring a successful defence of our dominance for the past 10years of the KANAZAWA CUP title" added Sensei Brando
SA karate legend Kyoshi Sonny Pillay (8th dan black belt) Technical Convenor of Karate SA (KSA) the all styles national federation said that the GIFT OF THE GIVERS KANAZAWA CUP 2012 is expected to be huge with interest expressed by karate orgs from throughout the republic
In addition several countries viz Mauritius, Mozambique, Tanzania India, Pakistan, Slovenia , Botswana, Cameroon (to name a few) are expected to fight in SOUTH AFRICA'S premier karate tournament the GIFT OF THE GIVERS KANAZAWA CUP 2012
The KANAZAWA CUP is not for the "faint hearted" and certainly not a "friendship" tournament said Kyoshi Pillay simply put it's the battle of the "BEST OF THE BEST "
SKISA'S 2011 55kzn caps (ethekwini region ) 12 proteas and 7 National KSA champs are expected to dominate the various individual categories of the prestigious GIFT OF THE GIVERS KANAZAWA CUP ,event scheduled for April at the DUT Fred Crookes Sports Centre
Chief guest of honour is 2 time world Shotokan champion Japanese maestro Manabu Murakami who will serve as chairman and chief referee of the GIFT OF THE GIVERS International Kanazawa Cup 2012
The GOG International Kanazawa cup 2012 is open to all interested karate tournament fighters
SKISA does it again ANOTHER SA "ALL STYLES" KSA CHAMP congrats to
URICK NAIDOO and our PROTEA coach sensei BRANDO well done!!!
CONGRATS TO OUR SKISA ISIPINGO KZN CAP URICK NAIDOO ON WINNING THE KSA NATIONAL ALL STYLES TITLE 2011
According to our Protea coach your performance was brilliant as you went on demolishing all opposition to be crowned SA all styles champ.
SKISA salutes you for flying our flags high in Cape Town!!!! well done we are proud of you.
To Tahira our wonder girl from SKISA Tongaat your winning a Silver medal is an outstanding achievement indeed especially with this being the first time you fought on the biggest stage in South Africa "THE NATIONALS"
Keep it up !!! and you will soon be a champion !!
In addition may i pay glowing tribute to all our SKISA KZN caps who represented our organisation and province at the KSA all styles nationals you did us proud by fighting the fight.
Remember as i always say everytime you fight in a tournament you win a new experience
Moreover note that every tournament is different from the other with new opponents and these experiences such as this wk ends KSA nationals in Cape Town will prove invaluable on the way forward as you meet the challenges in the tournament arena around the world.
May i also express my sincere appreciation to the many parents who travelled with their children to give them ( besides financial )moral support that i believe is of utmost importance at events such as the nationals
Keep supporting your children parents believe me as SKISA and its chief coach has always proven "THERE IS LIGHT AT THE END OF THE TUNNEL" (how many tournaments has URICK participated in before winning the title on saturday 1st oct ?? min of 5 Nationals perhaps )
Finally a big thank you to our manager Sensei Bradley and Protea Coach Sensei Brando who voluntarily (at their own cost) served our children at the nationals in Cape Town.
SKISA PROTEAS TRIUMPH IN AUSTRALIA 2011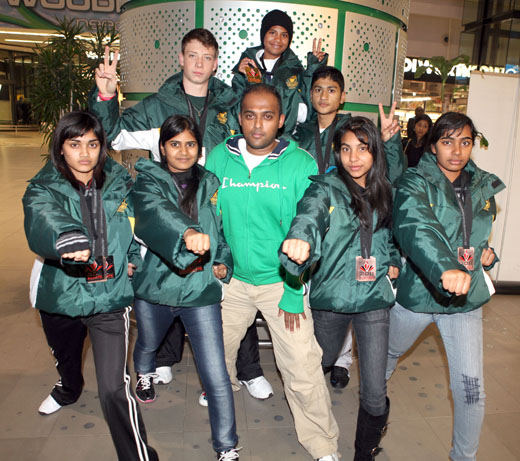 THE TRIUMPHANT SKISA PROTEAS TEAM SOUTH AFRICA RETURNED ON MONDAY ADMIST A HEROES WELCOME AT KING SHAKA AIRPORT

TOAST OF THE DURBAN SKISA "DAREDEVILS" IS SHAKASKRAAL ASHWARIYA RAMNARIAN WHO WAS CROWNED COMMONWEALTH CHAMPION AFTER WINNING GOLD IN THE CADET GIRLS DIVISION

RIDGEPARK HIGH SCHOOL STUDENT SHEYRANYA NAIDOO WON THREE MEDALS (2 SILVER /1 BRONZE) WITH OUTSTANDING PERFORMANCES IN TEAM KUMITE /KATA AND INDIVIDUAL KUMITE

NEWLANDS WEST JASHEN BALRAJH EXECUTED BRILLIANT KICKING TECHNIQUES TO TO FINISH IN THE TOP THREE

TRINA OREE CRAWFORD NORTH COAST PUPIL PUNCHED HER WAY TO A SILVER WITH CLEVER FOOTWORK AND NARROWLY LOST THE FINAL TO A NEW ZEALANDER

SKISA WONDERGIRL RIASHA SINGH WHO ATTENDS DURBANS SASTRI COLLEGE WON TWO BRONZE MEDALS AFTER EXPERIENCING SOME TOUGH REFEREEING DECISION

CRAWFORD COLLEGE LA LUCIA PUPIL DEWALT SADIE FACED TOUGH COMPETITION FROM THE BURLY AUSTRALIAN FIGHTERS AND ROSE TO THE OCCASION WITH A PODIUM FINISH BRONZE MEDAL

TONGAATS MISHKA CHUNILAL A SEA TIDES GRADE 11 PUPIL CAPTURED BRONZE IN THE TEAM KATA WITH HER TEAM MATES RIASHA AND SHEYRANYA CURRENT KSA NATIONAL TEAM KATA CHAMPIONS

PROTEA COACH BRANDO PILLAY WHO COACHED THE NATIONAL TEAM (THE SKISA PROTEAS INCLUDED) FROM THE COACHES CHAIR AT RINGSIDE WAS FULL OF PRAISE FOR HIS TEAM "OUR FIGHTERS MADE THE RAINBOW NATION PROUD"

"MOREOVER TEAM SA ON THE WHOLE FINISHED A CREDIBLE 3RD ON THE OVERALL MEDALS COUNT BEHIND HOSTS AUSTRALIA AND NEW ZEALAND " ADDED THE COACHING MAESTRO SENSEI BRANDO

SKISA MASTERS CAMP 2011 A HUGE SUCCESS

The annual SKISA MASTERS CAMP conducted by visiting Japanese master 2 time world champion MURAKAMI shihan was an overwhelming success with over 100 brown and black belt karateka in attendance

The 3 day camp was gruelling and extremely educational with the Japanese maestro asst by SKISA chief instructor Kyoshi Sonny Pillay, chief coach sensei Brando Pillay and Protea Jabulo Khumalo focussing on the the latest kata changes and fighting techniques.

The camp that attracted black belts from Mozambique, Bangladesh, Botswana ,DRC Congo and from thro out the republic of South Africa was hosted at the DURBAN UNIVERSITY OF TECHNOLOGY (DUT)

Master Murakami expressed optimism and great confidence that SKISA will be amongst the medal winners at the 2012 SKIF world cup karate in Sydney Australia " i notice karate standard is steadily improving every time i visit your country" said the 2 time world champion upon conclusion of the 2011 masters camp

I am proud to say SKISA annually brings Japan (Japanese traditional karate) to South Africa through Master Murakami's regular visits to KZN in particular and the benefits are TENFOLD said Kyoshi Sonny Pillay co-ordinator of the camp

SKISA TEAM SA UNDER THE CAPTAINCY OF CAPTAIN MARVELLOUS AND CHIEF COACH SENSEI BRANDO PILLAY CLINCHED THE GIFT OF THE GIVERS INTERNATIONAL KANAZAWA CUP 2011 FOR THE 10TH YEAR IN SUCCESSION (2002-2011)

"THIS 10TH CONSECUTIVE VICTORY WAS SWEET" SAID SOUTH AFRICA'S KARATE LEGEND KYOSHI SONNY PILLAY COZ OUR TEAM FACED VERY STRONG OPPOSITION FROM DRC CONGO, BANGLADESH, BOTSWANA, MOZAMBIQUE, SYRIA AND SEVERAL INVITATIONAL TEAMS FROM AROUND THE COUNTRY

AFTER CONVINCINGLY DISPOSING OF THE KWF TEAM FROM GAUTENG IN THE SEMI FINALS SKISA TEAM SA ENTERED THE FINAL OOZING WITH CONFIDENCE AND FACED THE NATIONAL KIMURA SHUKUKAI TEAM LED BY FORMER PROTEA AND CAPTAIN CARL WEBSTER TO DO BATTLE IN THE BEST OF THE BEST FOR THE GIFT OF THE GIVERS TEAM CHAMPIONS TROPHY

THE FINAL WAS FULL OF THRILLS SPILLS AND CHILLS WITH SKISA SUCCESSFULLY DEFENDING THEIR 2010 TITLE WITH A GREAT VICTORY THAT HAD THE RECORD NUMBER OF SPECTATORS ON THE EDGE OF THEIR SEATS.

SIDE BY SIDE ON ANOTHER RING THE SKISA LADIES TEAM SA DEMOLISHED ALL OPPOSITION TO BE CROWNED LADIES GIFT OF THE GIVERS KANAZAWA CUP TEAM CHAMPIONS 2011

OUR TEAMS WERE FIRING ON ALL CYLINDERS AND DOMINATED THE TEAM EVENTS THRO' OUT THE EVENT ( RECOGNISED AS ONE OF SOUTH AFRICA'S PREMIER KARATE TOURNAMENTS ON THE NATIONAL CALENDER) SAID CHIEF COACH SENSEI BRANDO PILLAY

"THIS HIGH CLASS PERFORMANCE AUGURS WELL FOR 12 OF OUR SKISA FIGHTERS ON THE ROAD TO SYDNEY AUSTRALIA IN JULY 2011 TO FIGHT FOR OUR RAINBOW NATION IN THE COMMONWEALTH CHAMPIONSHIPS " ADDED THE RECENTLY APPOINTED (1 OF 3) ALL STYLES COACH OF KARATE SOUTH AFRICA (KSA) SENSEI BRANDO PILLAY

DR IMTIAZ SOOLIMAN FOUNDER OF THE GIFT OF THE GIVERS FOUNDATION WHO PARTNERED SKISA IN HOSTING THE INTERNATIONAL KANAZAWA CUP 2011 EXPRESSED HIS DELIGHT WITH THE SUCCESS OF THE ELITE EVENT AND SAID THE 2011 EVENT WAS BIGGER AND BETTER THAN LAST YEARS EVENT AND PLEDGED HIS TOTAL SUPPORT TO SKISA FOR THE 2012 GIFT OF THE GIVERS TOURNAMENT.

THE EVENT WAS GRACED BY SPORTS LEGENDS SUGAR RAY XULU,DON MUDALY,JESSIE MOODLEY,DAYA MAISTRY ,HANSHI SOLLY SAID,SCAMPY BISSESSOR ,SENSEI MALCOLM DORFMAN AND SENSEI VINCENT MOODLEY IN WHOSE PRESENCE BOTH KYOSHI SONNY PILLAY AND DR SOOLIMAN LAUNCHED THE "REACH OUT TO JAPAN" FUND RAISING CAMPAIGN WITH SABC AND SAFM TO ASSIST THE VICTIMS OF THE JAPAN EARTHQUAKE AND TSUNAMI

VISITING CHIEF GUEST OF HONOR 2 TIME WORLD CHAMPION JAPANESE MASTER MANABU MURAKAMI GAVE THE GUESTS,PARENTS, PARTICIPANTS AND SPECTATORS AN INSIDE VIEW OF THE DEVASTATION THAT OCCURED DURING THE TSUNAMI/EARTHQUAKE AFTERWHICH DEPUTY MAYOR LOGIE NAIDOO ADRESSED THE HUGE CROWD AND FUTHER STRENGTHENED THE APPEAL TO ALL TO PARTICIPATE IN THE "REACH OUT TO JAPAN FUND RAISING CAMPAIGN"

THE JAPANESE WORLD MAESTRO MANABU MURAKAMI SHIHAN ALSO GAVE A MAGNIFICENT DEMO OF ADVANCED KATA (FORMS )THAT WAS ONE OF THE HIGHLIGHTS OF THE EVENT RESULTING IN A HUGE APPLAUSE

SKISA Team South Africa in Top Form for Gift of Givers international Kanazawa Cup 2011

Members of SKISA Team South Africa are in top form and are raring to "Go for Gold" at the forthcoming Gift of the Givers International Kanazawa Cup Tournament scheduled for the 30th April 2011 at the Fred Crookes Sports Centre DUT (Durban University of Technology).

"Our top fighters have been training around the clock forsaking their weekend holidays in order to be "fighting fit" for the annual event" said Sensei Brando SKISA Chief Coach and a ten time winner of the event. Tournament Director Kyoshi Sonny Pillay said that "More than 800 of South Africa's best tournament fighters will be at the Fred Crookes Sports Centre to do battle in the "Best of the Best" for the Kanazawa Cup individual titles".

Huge interest is annually shown by tournament fighters from throughout the country and abroad to showcase their talent at the Gift of the Givers INTERNATIONAL KANAZAWA CUP

This year 2011 is expected to be the largest tournament ever !! added kyoshi pillay

"The tournament that annually is a major attraction on the South African Karate calendar is open to all Instructors and interested tournament fighters and I invite everybody to come and enjoy an exciting karate day" added Kyoshi Pillay.

Several countries from abroad viz Slovenia, Pakistan, Mozambique, Zimbabwe, Ivory coast, DRC, Tanzania and Mauritius and will tussle to win the prestigious "team champions" title (highlight of the day) of the SKISA flagship annual tournament hosted in the Kingdom of the Zulu since the new millennium year 2000

The Chief Guest will be Japanese karate Maestro Shihan Manubu Murakami (2 Time World Champion) who will also be conducting a Masters Camp prior to the International Kanazawa Cup.

For all enquiries re the tournament and masters camp please contact the SKISA HQ on 031 5641408/ 082 5577784 or email kyoshi@ski-karate.com

Pic: SKISA Team SA wrap up preparations at a recent coaching camp under chief coach sensei brando pillay (5th dan skif japan )

______________________________________________________________

SKISA HIGHFLYERS

KZN karate PROTEAS Priya Pillay and Elisha Naidoo together with WORLD CUP (geece 2009) silver medallist Trina Oree all received the HIGHFLYERS outstanding performance awards for the 2009 season at the SKISA AWARDS GALA DINNER BANQUET held over the week end in durban.

Chief guest of honor Prof Dasrath Chetty paid glowing tribute to the three superstars for their remarkable achievements and complimented SKISA on its focus and promotion of sport amongst the youth during his keynote address.

PRAISE WAS ALSO HEAPED ON THE THREE AWARDEES by SKISA chief coach and captain Sensei Brando Pillay" i am confident that our three girls all superstars in their own right are future WORLD CHAMPS" said the KZN karate maestro.

Priya attends the northlands girls high school (durban north ) Elisha Naidoo is a UKZN student and Trina Oree attends Crawford Prep in Tongaat.

-------------------------------------------------------------------------------------

Kancho Kanazawa confers Nana Dan on Kyoshi Pillay on the 6th of May 2007 at the royal hotel.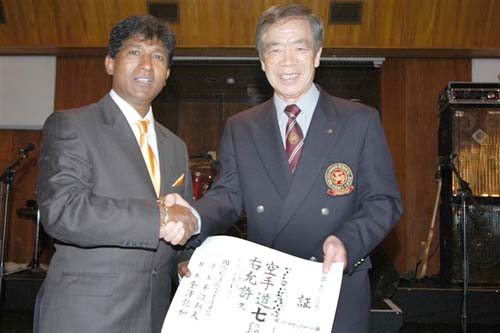 --------------------------------------------------------------------------------------
Karate Maestro Awarded 8th Dan Black Belt by World Federation
South Africa's Karate Maestro, Sonny Pillay, was honoured by the International Federation of Pankration Athlima (IFPA) with an 8th Dan Black Belt(Pankratiastis 8), which is the highest Pankration Rank awarded to a Martial Artist in the African Continent. Pankration Athlima is a Greek Martial Art that dates back to 648 B.C. and was part of the Original Olympic Games. At the recent 2nd IFPA World Congress held in Brazil, Sonny was appointed by the IFPA as President of the Federation of Pankaration Athlima South Africa (FPASA) and the African Union of Pankration Athlima (AUPA). IFPA President Mr. Panagiotis Koutroubas paid glowing tribute to Sonny at the 2nd IFPA World Cup(Sao Paulo - Brazil) for his outstanding contribution made in the Promotion of Martial Arts worldwide and welcomed him and the FPASA into the world body. South Africa are "hot favourites" to host the 3rd World Cup scheduled for 2006. FPASA has been invited to participate in the World Martial Arts Games in Korea 2006.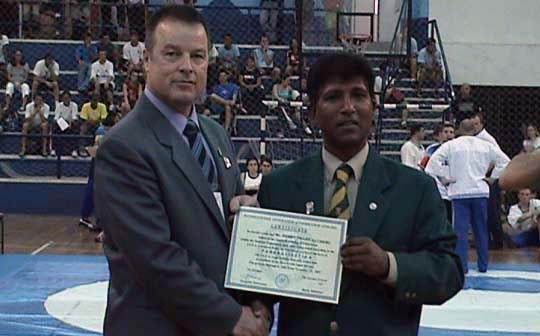 ----------------------------------------------------------------------------------
Summer Camp 2006
Dear All
SKISA wishes to thank all Parents, Instructors, and Students who attended the Annual SKISA Summer Camp at Annerley in the South Coast of KZN.
The Group comprising of approx. 100 persons enjoyed a fun filled weekend of activity with the weather changing from rain on Friday evening to beautiful sunshine on Saturday and Sunday. As Co-Ordinator of the Camp may I thank Dr Garcia, the Official Medical Consultant of SKISA, and Pierre van Heerden, member of SKISA Team South Africa 2006 Management Commission, who travelled from Piet Retief and Gauteng respectively. The Team of Thebe, Walker, and Walter from Gauteng provided stiff competition to KZN Members of the SKISA Squad during the Squad Training Sessions in preparation for the forthcoming International Kanazawa Cup 2006.
Congratulations to Coaches Brando and Trevor for a job well done!!! ... Your team, I am certain, will deliver come the 29th April 2006 (Kanazawa Cup) and thereafter in the 9th SKIF World Cup Japan 2006.
Renowned Political Analyst Kiru Naidoo (DIT), a parent on the Camp, made an excellent motivitional contribution in his speech to the members of the Squad for Team South Africa 2006. Additional positive contributions were made by Dr. Garcia, Coaches Brando and Trevor, Squad Member Thebe, and Jay Sewsunker - General Manager Team South Africa 2006.
Joy as usual was busy with his camera recording the activites of the Camp...I am always grateful to Joy for his voluntary contribution.
The Camp was concluded with a huge braai.
In conclusion special note has been taken of Instructors/Black Belts who have become conspicious by their absence from special programmes such as our Summer Camp. Continued Absentism with no notice and reason will impact very negatively with regards to your future in SKISA..."Only Time will Tell!"
Once again Thank You to all who made a difference by attending
Look forward to sharing the SKISA Winter Camp (18 - 20 August 2006) with you...
Best wishes, Oss...
Kyoshi
-----------------------------------------------------------------------------------------------------
SKISA NEWSLETTER 01 (09 May 2004):
CONGRATULATIONS!!! to Top WKF Fighter IVORIAN JUSTIN ETTY(now residing in Reunion Island), who exhibited some brilliant fighting techniques on his way to winning the "Kanazawa Cup 2004" and being crowned Champion at the D.I.T-Fred Crookes Sports Centre in Durban. Levinia Arran was declared the Ladies "Kanazawa Cup 2004" Champion...Well Done!!!


KZN Minister of Sport and Recreation MR. Amichand Rajbansi attended the "KANAZAWA CUP 2004" as the chief guest of honour. Sensei Murakami presented him with an 8th SKIF WORLD CUP PLAQUE and the Autobiography of KANCHO" KARATE MY LIFE". Minister RAJBANSI read the last paragraph from the "never ending road"(page 297) in his keynote address and expressed his absolute delight upon discovering that his photograph appears in Kancho's book.


The President of SKI Ivory Coast MR. Nicolas Tanoh attended the "KANAZAWA CUP 2004" Championships. He participated in Sensei's Murakami's seminars and remained in Durban for further training with Kyoshi Pillay for 10 days.


Sensei Murakami departed for Europe after his 10 days South African tour visiting Johannesburg, Kwathema East London, Mdantsane and various towns in KWAZULU NATAL. His tour was well attended and proved to be an overwhelming success , moreover local government was most impressed with the street children's workshop, voluntarily conducted by Murakami Sensei, Stanley Khoza, Kyoshi Sonny Pillay and other senior instructors as part of SKISA's SOCIAL RESPONSIBILITY PROGRAMME.


SKISA Dan(Black Belt) candidates receive 90% Dan exam pass rate at the Dan National gradings conducted by Murakami Sensei and Kyoshi with KZN Senior Instructors Mergen Naidoo and Marietjie Fourie receiving their Sandan.


Kyoshi was appointed Tournament Director for the National Karate South Africa(KSA) All Styles Championships which took place from the 7-8 May 2004. Kyoshi Pillay ran 3 tournaments in 21 days(17-04-04 to 07-05-04)
17-4-04 Kwazulu Natal All Styles
1-5-04 Kanazawa Cup 2004
7&8-5-04 KSA National All Styles
All the three tournaments were declared major successes with enormous TV and media coverage.


SKISA applauds and salutes our Chief Instructor Kyoshi for invaluable service rendered to the Karate fraternity of South Africa. Running 3 high profile tournaments in 21 days' as a Tournament Director is an incredible feat!!!


Once again SKISA produced an All Styles National Champion in local township "boy" Vusi Gumbi who thrilled the spectators with superb techniques to win "Gold" in the Cadet Division qualifying him to represent South Africa in the UFAK (ALL AFRICA) Jnr and Cadet Championships scheduled for Durban in September 2004.


SKISA KZN make a clear sweep at the KZN All Styles Championships entering 12 students who won 13 medals. Congratulations KZN!!!


Sensei Aravind Sukumar from India attends and participates in Kanazawa Cup 2004 and Murakami Sensei's seminars and remains in South Africa for further training.


Kenya's Sahil Patel wins Gold in Kanazawa Cup 2004 (jnr division). He spends two weeks training with Sensei Murakami and Sensei Brando.


A moments silence was observed at the "Kanazawa Cup 2004" for a friend and patron of SKISA, Mr. Jayson Pillay, who tragically passed away a few days before the event. May his soul rest in peace.


SKISA'S continues to celebrate Dr Mandela's 10th Dan award. Kyoshi Pillay is an extra ordinary man to have achieved the rare honor of personally presenting the great "Madiba" (Dr Mandela)with the SKIF Master's degree (10th Dan). Perhaps many South Africans and SKIF family from abroad will find it difficult to understand the power of the Founder, President and Chief instructor Kyoshi Pillay. He is an African with enormous vision who often achieves the impossible, presenting the great "Madiba" with the SKIF 10th Dan was one such impossible task achieved by Kyoshi. SKISA salutes you on this milestone. You have made history as this is the first martial art award (10th Dan SKIF) presented to Dr Mandela. Over 40 million people viewed this presentation on Nationwide(SABC) Television at 7 pm Main News on the 6th April 2004.


SKISA wishes to place on record our sincere "Thanks" to all Officials, Karateka and Parents who had played a role in making the Kanazawa Cup 2004 a success!!! A special "Thanks" has to be made to to those Officials/Parents who assisted at the KZN and KSA Championships. SKISA looks forward to your continued assistance.
As a matter of interest, as per the latest media reports in leading Newspapers, Dr. Mandela will officially retire from Public Appearances/Affairs as from the 11 May 2004...
Look out for further Newsletters...