SASCOC Ensures Victory for Justice

KZN Proteas superstars Riasha Singh, Mishka Chunilal ,Sharenya Naidoo and Trina Oree were honored by SACOC at a glittering banquet hosted by the SKISA trust on Sunday night at a local hotel.
Member of the SACOC board Mubarak Mohamed who was VIP guest at the function paid glowing tribute to the 4 girls who were unfairly axed from the Protea Team in 2011 scheduled to fight in the World Championships in Malaysia.
He thereafter presented OUTSTANDING CONTRIBUTION AWARDS commending the 4 athletes who were prejudiced in view of nepotism and discrimination practiced by the former NEC of KSA.
SASCOC also honored newly elected Vice President of KSA Kyoshi Sonny Pillay for taking up the fight for justice on behalf of the four top ranked fighters of SA with the former NEC dictatorship of KSA.
Mubarak Mohamed chair of the dispute resolution and ethics committee of SASCOC heaped praise on Kyoshi Pillay for his courage ,determination and tenacity and presented a Meritorious Award to the SA karate legend.
"This is a victory for justice" said a very happy Kyoshi Pillay upon being bestowed the prestigious accolade and it certainly is in keeping with the dynamic current honourable minister of sport FIKILE MBULULA cliché of "Athletes first " added the karate maestro Kyoshi Pillay
"A VICTORY FOR JUSTICE" IS HOW SA KARATE LEGEND EXPRESSED HIS LANDSLIDE ELECTION VICTORY AS VICE PRESIDENT OF KARATE SOUTH AFRICA
(KSA national governing body for all karate in the republic)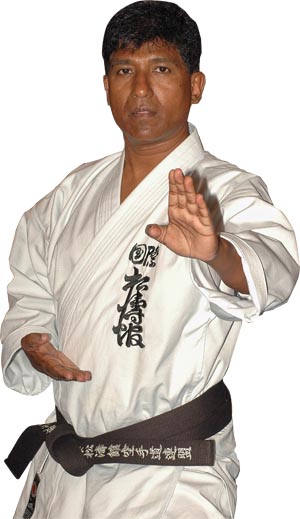 After more than 40 years practising the art of karate and numerous awards and international acclamation, it seemed only natural when Kyoshi Sonny Pillay was recently elected Vice President of Karate South Africa (KSA) .
The announcement was made on 17th March at the annual general meeting of Karate South Africa, who are the national governing body for all karate in the country,conducted by the South African Sports Confederation(SASCOC) in Gauteng . The new post as, arguably, the second most prominent karate leader in the country (Cape towns Mary Ann Landers was elected President) resulted in tidings and nods of approval(tributes) pouring in for Kyoshi Pillay from sources as diverse as the presidents of Shotokan Karate organisations of Cameroon, Mauritius,Madagaskar and Tanzania, to karate leaders in India, and even from international doyenne of Shotokan karate, Manabu Murakami, from world fed SKIF Japan.
When recently interviewed by the news media the newly elected Vice President of KSA said "First and foremost may I pay glowing tribute to SASCOC for being bold and decisive in its mission to clean up the karate admin of the previous NEC of KSA " from President Gideon Sam to "Ceo Tubby Reddy and Mubarak Mohamed ( interim administrator of KSA) played a vitally important role in driving the investigation forward after i tabled my letter of complaint with regards to the unfair axing of the four Protea " Kzn" girls from the national team who were selected to fight in the world champs in malaysia (oct 2011) " added Kyoshi Pillay
Needless to say, Pillay was delighted, and touched " It has been a very fascinating, exciting and challenging journey, from being a white belt in the height of the apartheid era of 1968 to today serving in the enviable position of Vice President" said the karate legend ." I am deeply honoured to serve the karate fraternity of my country as my election( landslide) victory is symbolic of the love and confidence( for me ) expressed by the martial artists of the rainbow nation " added Kyoshi Pillay
The karate maestro further added "I accept this great honor as Vice President of KSA in memory of the" Unsung karate Heroes" of the dark days (60's/70's) such as Kwa mashu's Jerry Skosana (my sparring partner) Jammie Mohan (Kzn karate legend) Glen Popham (1st capt of colour of the national karate team in the 60's) and "Raku" Soobiah Naidoo(founding father of martials arts amongst the non whites) who sadly are all "no more" in addition I really wish one of them were around to see me climb the podium in this election victory "said Kyoshi
The responsibility of his position has also occurred to Pillay, who touched on the fact that his appointment comes after (oct 2011) the old NEC of South Africa were placed under forensic audit as instructed by SASCOC, amid suspicion of financial irregularities
And poor governance . ""Some members of the KSA NEC who acted unilaterally in many respects have had to 'bite the dust', as all those implicated were unsuccessful in their attempt to be re- elected at the said AGM and now await their fate in respect of the findings of Deloitte and Touché who have been tasked to carry out the forensic audit.
Pillay also emphasised that, while he will be looking after the PROGRESS of karate on a national level, his heart and his home will; remain firmly in Durban North, where he has lived and run the Shotokan Karate-do International organization of South Africa (SKISA) for more than a decade. Moreover my allegiance is with Kzn karate as I was nominated for Vice President of KSA by the Ethekwini region led by the very able Shihan Stan Khoza
"Above all its time for the newly elected NEC of KSA to roll up its sleeves and step up to the plate as we endeavour to restore the reputation of South Africa as a world class karate nation" concluded the karate maestro who as CEO in 2003 successfully hosted the SKIF world cup that attracted 52 countries to the to the Kingdom of the Zulu (ICC Durban)

Massages of Congratulations: